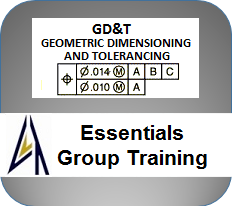 GD&T Essentials Live Instructor Led
GEOMETRIC DIMENSIONING AND TOLERANCING TRAINING
Geometric dimensioning and tolerancing is an international language used on drawings to accurately describe a mechanical part. The language consists of a well-defined set of symbols, rules, definitions, and conventions that can be used to describe the size, form, orientation, and location tolerances of part features. 
Course description:
You will learn the symbols, terminology and rules of Geometric Tolerancing as prescribed in the current standard (ASME Y14.5M-2009). 
Training duration options:
3-days Complete GD&T Class including all topics below. Minimum of 3-students to make a class, or contact us for custom options and pricing.

1 or 2 day custom classes or seminars choosing specific topics and depth of coverage.
 Learning Objectives
Translate geometric callouts into plain English with one meaning.
Explain the major default rules found in ASME Y14.5-2009.
Explain the tolerance zones for the 14 geometric characteristics.
Understand the hierarchy of geometric tolerancing.
Recognize proper application of GD&T.
Calculate geometric tolerances and boundaries
Understand the best approach to take when applying geometric tolerances.
Select datum features based on design intent.
Introduction
Course Objectives
Geometric Shapes
Time for Drawing Previews!
What is GD&T?
The GD&T Hierarchy
Features
GD&T is as easy as 1-2-3
Material Conditions
Feature of Size (Rule #1)
Relationship
Rule #2
Screw Thread Rule
Orientation
Perpendicularity
Parallelism
Angularity
Tangent Plane
Profile
Profile Tolerance Zones
Composite Profile
Coplanarity
Applications
Datums
Six Degrees of Freedom
Datums
Datum Features
Simulators
Symbol Placement
Datum Precedence
Datum Targets
Datum Guidelines
Virtual Condition
Free State
Fixed and Floating Fasteners
Floating Fastener
Fixed Fastener
Projected Tolerance Zone
Position
Composite Position
Implied Conditions
Symmetry
Form
Flatness
Straightness
Circularity (Roundness)
Cylindricity
Coaxial Features
A Comparison of   
Runout
Concentricity
About the instructor:
The instructor of this GD&T class has over 25 years of manufacturing experience as a CNC programmer, CAD Engineer, CMM programmer, and Quality Engineer. John's knowledge of shop floor operations from design through final inspection give him a unique perspective on GD&T and its application at each stage of the process and allow him to effectively bridge the communication gap that sometimes occurs between design, manufacturing, and quality control. He has instructed Fortune 500 companies as well as small shop operations in the proper application of GD&T for over 10 years and is certified in GD&T at the senior level by ASME. He is a regular attendee of the ASME Y14 meetings and is a member of the ASME Y14.36 committee.